Facing the Environmental Turn. The Extractive Industries under scrutiny
du 24 août 2022 au 26 août 2022
- International Symposium - Ipoh, Malaysia

Symposium organisé par Gilles Lhuilier dans le cadre du réseau national des Maisons des Sciences de l'Homme, avec entre autres, le soutien de la Maison des Sciences de l'Homme de Bretagne et de l'ENS Rennes.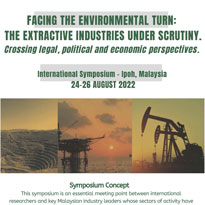 /medias/photo/20220808-programme-international-symposium-ipoh-for-diffusion-page-1_1661254525394-jpg
This symposium is an essential meeting point between international researchers and key Malaysian industry leaders whose sectors of activity have contributed to the environmental problems of our time.The extractive industires are currently under scrutiny around the world. The lever of the new European environmental policy initiates the dialogue between legal,political and economy perspectives. The seminar attempts thus to explore the meeting of Malaysian CSR practises with the new International/European environmental regulations. Are they compatible?
Will they have to evolve? Or on the contrary, will Malaysian practices adapt to European regulations? How could they inspire European law? Contemporary researches on mining sustainability will be presented and discussed.
Thématique(s)

Recherche - Valorisation

Partenaires

To register for a zoom link: https://bit.ly/3QfKhKL

Contact
Mise à jour le 23 août 2022
---
Dans la même rubrique